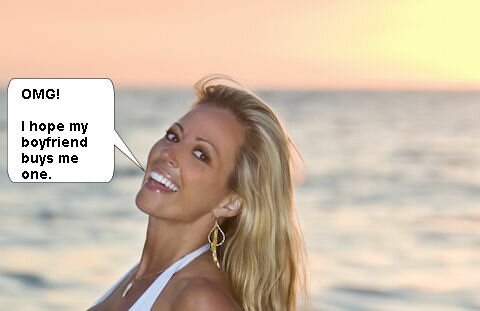 Micro bikini company Wicked Weasel has launched its' 2008 catalogue. Due to popular demand they are forced to charge you $5 to send you the glossy catalogue home to you.

Some of the bikini types include:

The classic tri-top bikini in matt(!) finishing.


Lycra bikini with underwire for that extra support..


Bikini with a shiny bandeau top. The wet look effect is only suitable for fitness models and other hotties.


There's also this lace up bandeau top for the alternative crowd.


This little thing is Wicked Weasel's take on the famous "Dr. No bikini." You know that heavy big piece of clothing Ursula Andress wore as she rose out of the water in the James Bond movie Dr. No...


The lighthouse shorts is suitable when meeting your father in law.


This diamond lace bikini is perfect for the annual trip to Goa.


This bikini is cleverly named Microminimus, this is the "camo" version.


The Microminimus bikini in gold lurex look.


Snakeskin bikini for those days when you feel like an animal.

What price skimpy little g-string bikini?
Each top and bottom typically costs around $35. So a set of itsy bitsy teeny weenie bikini will cost you appx. $70. The look on your boyfriend's face when you show him your new bikini: Priceless.

More bikinis and detailed price information can be found in Wicked Weasel's online catalogue.