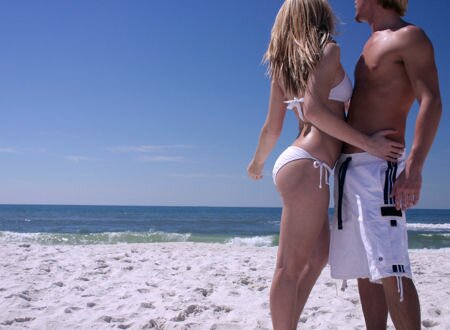 Rhodes in Greece is well known for its luxurious beaches filled with golden sands and great picturesque scenes. Most tourists who have visited it praise its warm weather which is never extreme, making for perfect holidaying all year round. What makes its beaches sexy may not be the white or golden sands or the palm trees that line its magnificent beaches but also the sexy looking bikini clad girls who grace the beaches all year round.
One of such sexy beaches is Afandou which is located 22km south east fro the city of Rhodes. The glamour of Afandou is actuated by the sand and pebbles that line its beaches. It lacks the usual domination of rentals and beach facilities thus it is less crowded than other beaches in Rhodes. The village of Afandou nearby has friendly locals who are always willing to help. Another such luxurious beach is Faliraki which is on the north eastern part of Rhodes city 14km fro the central business district. Its beaches have excellent golden sands that actually stretch 4km along the shore. It has sun beds, umbrellas, bars, restaurants, taverns and offer many water sports.
The beach at Kalathos is situated 50 km south eats of Rhodes. It is famous for its soft golden sands and clear crystalline waters. It also offers several beach facilities. Kalithea is another sexy beach located 10km north east of Rhode. Unlike other beaches, Kalithea has hot medicinal springs and is actually wonderfully lined with palm, pine and filled with clear emerald waters. Finally, there is Glystra beach which has clear warm waters and golden sands. Its canteens offer excellent foods and the locals around the beach are very friendly. The beaches of Rhodes possess a special romantic beauty that can only be described as magnificent. Of course, you have to visit them to find out for yourself.