Mykonos is on the small Greek island of Corfu. Holidaying in Mykonos provides the option to party with sun and sea being an added advantage. Other things to do include watersports from one of the popular sandy beaches or taking a hike up the rough terrain where you will find peace and quiet away from the busy town. You might come face to face with Corfu's world famous wild tortoises or meet a beaky Pelican on your travels, whatever comes of your holiday, here's a quick guide to tell you whats hot.
Who Comes To Mykonos?
In Mykonos you will find the prices above average of other Greek resorts, your surroundings are beautiful, as are the residents and holiday makers that visit. With Hotels like Harmony Hotel, Hotel Pessasos Beach and Mykonos Grand Hotel (A graded and 5 star) you can imagine that holidaying in Mykonos is done by mainly those looking for a little bit extra. Mykonos is full of Cosmopolitan charm and the lively areas are visited mainly by German and British Gay tourists of all ages, and young Americans and certain areas are lovely for families and couples too. The village itself is beautifully set with Cyladic features, plenty of ancient architecture, museums, greek churches and a bustling town full of whitewashed alleys. You will also find stylish bars, plush greek tavernas and great nightclubs. The beaches on the South are worth a mention too – see below – as is 'Little Venice' where the sea meets the wonderful buildings, a stunning place to watch the sunset.
When does the Season Begin in Mykonos?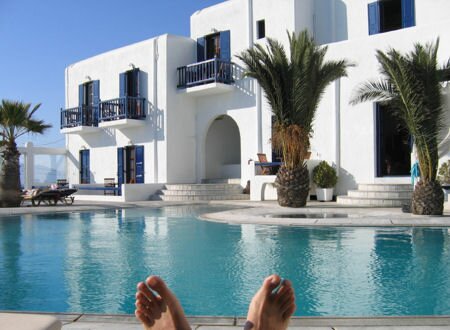 The best time to visit is June, July, September and October. Mykonos holiday makers begin to show up just after Easter time (from mid April) and won't be found much after October has ended.
Airport Information
Mykonos National Airport is situated 4km away from Mykonos town and a short taxi ride or bus ride will take just 10 minutes. From here you can hire a car, book tours and arrange yacht rental. Some hotels have an airport shuttle service so check this when you book. You can organise private transfers to your destination in advance from as little as 10 Euros
Mykonos Nightlife
The clubbing scene in Mykonos is lively, modern and atmospheric with a large presence of gay clubbers found mainly in Mykonos town. You will find most of the nightlife in Mykonos town – you will find sophisticated clubs and bars through whitewashed ancient alley ways, with fabulous cocktail bars and amazing nightclubs. The clubs and bars don't often close before dawn, when everyone leaves to shower and go to the beach but at around 10 Euros per drink you might decide to quit clubbing earlier than that. Perhaps you might visit the Skandinavian Bar (couples and singles) for slightly cheaper drinks.
You will find that Montparnasse Piano Bar, found in Little Venice, is where gay tourists head off to before midnight.
Super Paradise Beach is where you will find all -night parties, it doesn't matter whether its day or not, beachwear is a must. Mind you, its normally what you will find in the clubs too!
Local Drinks
Be aware that drinks on Mykonos can be expensive – in some bars and clubs you will find high prices match their high profile. As an example, many people visit the boutique Hotel Elysium to watch the fantastic sunset, but may not stay because the prices reflect those you would find at a Hilton – around 12Euros for a glass of wine in some places so watch that. However you will find the more rowdy a bar is the cheaper the beer, you could find a local beer for around 2Euros.
Local Cuisine
At peak season, Mykonos sees the majority of people dining at around 10pm before they hit the bars and clubs. Little venice is the ideal place to dine, but remember that most of the fish served in eateries here is not fresh but frozen. You will find here plenty of traditional greek tavernas, like Niko's Taverna, most of which have English written menus too. Places like Gregory's serve up Italian cuisine if you want a change. The Veranda restaurant is a restaurant for casual diners or you can visit another italian such asIl Parmigiano for Romantic dining. If you want to taste something away from the norm of keleftiko and Greek Feta salad, try the Nobu Matsuhisa in Hotel Belvedere for exquisite Sushi.
Boy/Girl Ratio
Mykonos has a large gay scene so you won't particularly find that there's a huge boy:girl ratio simply because you won't find too many boys chasing girls, or vice versa! Mykonos is predominantly male with very few lesbians. As far as girls walking around town on your own or after coming out of a club, stay sensible – plenty of men are on the prowl. As with any holiday resort you must be cautious and say no to 'private late parties'. Many men come here from Athens and see drunken girls as rich pickings so be weary.
Mykonos Beaches
'Platy Yialos' beach is one of the best on the island, it's 4km from Mykonos town but there are regular buses (every 20 minutes) from the south bus stop. If you prefer a more aged beach, again 4km from the town, with only 2 tavernas 'Agios Ioannis' beach is best left if you want simplicity – bear in mind though, its partly sand and shingle so you won't get soft sand through your toes here and this is part of the resort which attracts families. If its more sandy beaches you are looking for, the most popular and vibrant are on the south coast where you'll find most beaches attract nudists – Platy Yiolas is a great example. You'll find plenty of watersports activities and waterfront bars and restaurants. You can get a boat from here to the secluded Paradise Beach (between Parangas and Super Paradise Beaches) which has been popular since the 1960′s, it's energetic and attracts mainly straight holiday makers looking for a great atmosphere and a lively crowd. Head off to Super Paradise beach for a more gay scene.