The 5 hottest tiny micro bikini brands
The 5 hottest tiny micro bikini brands
The brands made for the bold.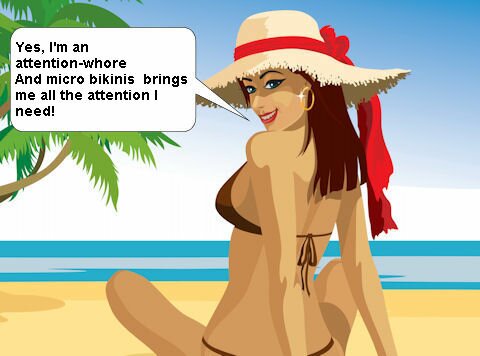 If you have a body to die for and want to really turn some heads on the beach or by the pool, there are some bikini brands that will help you to do just that.
These bikinis should be used with caution, because the small amount of material they use could cause staring. As well, if you're not built like a model, they could cause extreme embarrassment.
1.) Dangerous Curves

Dangerous Curves swimwear is based in California and has many different styles and hot colors to choose from. Their sexy bikinis go from tiny g strings to suspender styles and reflect the 'beautiful people' attitude of Cali.
As well if you a bikini that no one else will have, they can provide that for you from their 'custom shop'.
The Dangerous Curves suits can be found at dcswimwear.com and range between $40 and $50.
2.) Colleen Kelly Designs
At the end of the 1990's, in south Florida, Kelly and her friends competed in bikini contests at hot spots like Myrtle Beach and the Florida Keys. Since then she has become obsessed with bikinis.
Her swimwear designs have been featured in magazines such as Muscle and Fitness, Oxygen, Flex, FHM, Stuff, and Ironman. They range from 'sexy' to 'barely there'.
Colleen Kelly bikinis can be purchased at sexyswimwear.com and range in price from $76 to $109.
3.) mikrokitten brazilian bikinis
The suit styles range from the less revealing classic bikini to the 'show it all' micro and see thru bikini.
The suits, which can be bought as separates or as a set, do not use any lining to promote a more revealing look and have been featured in popular show Miami Ink.
The microkitten bikinis are made in Brazil, range in price from $23-$28 per piece for separates to $46-$72 for sets and can be found at microkitten.com.
4.) Fiu Fiu
Fiu Fiu, now located in Las Vegas, surprisingly began in Philadelphia. Since 2004 the label has been featured in the top muscle mags, as well as on MTV and the Travel Channel.
The owner of the company was born in Rio and is currently not only a business owner but an exotic dancer in Vegas.
The Fui Fui suits show attention to detail with lots of rigs, ties and sparkles. They range in price from about $84- over $100 and can found at fiufiu.com.
5.) Dirty Bird Bikini
Dirty Bird bikinis have been in business for over 15 years and offer consumers the option of choosing different suit and trim color combinations. As well one may mix and match sizes for tops and bottoms for a better fit.
With 18 colors to choose form, the bikinis go from classic Brazilian style for a little more coverage to teeny-tiny micros not for the faint of heart.
You can find the Dirty Bird bikinis at dirtybirdbikini.com priced form about $60-$75.
The tiny micro bikini market
The bikini companies above all state that their bikinis are the sexiest, hottest bikinis around. It's obvious that there are just subtle differences between them. After all, how much difference can there be when there is only 2" of material.
The differences boil down to price, color choice and the added detailing. As well, the difference in whether or not a bikini is considered sexy could also come down to who is wearing it.
If you look like a swimsuit model, you'll look great. If you don't, people probably won't be saying "that's sexy". They'll probably be saying "who let her wear that".
So purchase these suits with extreme caution and use a very critical eye when you see yourself in it, because everyone else will.

You have to be hot enough if you are gonna pull it off!