Insider tips to Mykonos, the hedonistic mega party isle of the Aegean
Insider tips to Mykonos, the hedonistic mega party isle of the Aegean
Mykonos tips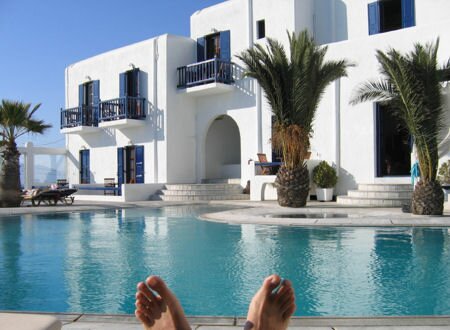 Mykonos, a white-on-white flower-covered jumble of cubed buildings and flowing, cobbled streets that practically sweats with crowds June through August, is the most popular Greek isle in the world. It is a classic jet-set playground where mega yachts, myriads of ferries, helicopters and planes offload 15,000 visitors a day. From models, magnates, rock stars, Formula1 drivers, international superstars, heads of state, multimillionaires to regular everyday folk the ultimate Greece experience is pretty much perceived as Mykonos.
What's it like
Under Mykonos's trademark windmills, in Little Venice the summer nights are laced with candle-lit tables set just near the water's edge, limitless bars and cafes bursting at the seams with glittered crowds. Mykonos has a schedule all its own that most respect or drop trying. You eat at 10 or later and then spend several hours of dancing or just walking through the streets getting home as honest people are waking up to go to work. Thus, crowds don't start showing up at the beach until noon, or even the early afternoon.


Dip your toe in the Mykonos sea
The water surrounding Mykonos is a crystal-clear aquamarine, and the beaches themselves are starkly beautiful. Super Paradise Beach is the most famous outside Mykonos (second to Ibiza) for being one of Europe's party zones. Lines of beach chairs and umbrellas, it draws hard bodies - male and female and gay and straight - with the type of tans last seen in America in the 1980's. It also has its share of topless women, beach-bum guys and the occasional family, all sunning themselves to dance hits pumped out by the beach bar restaurants that ring the beach.
Get away from the crowds
If you want to avoid the crowds or the madness there are plenty of smaller beaches to escape to. Agios Sostis, is just a few miles northeast of Chora, but still a pleasant drive. The wide beach is of pale sand, sometimes windy in the summer, but without any of the music or beach chairs. The strange moonscape hills of Mykonos rise above it, adorned with white cubed houses. A small cove on the north end provides all the shelter you need from the wind and sun, and feels a world away from the loud masses. Mykonos has enough gorgeous white-sand beaches lapped by crystal clear turquoise water to choose from in terms of atmosphere and amenities. These range from simple family-style tavernas to ultra-chic lounges pumping out dance music and potent cocktails at all hours. The latter is the case in many of the coves in the south, where the beach at Elia is a more tranquil version of paradise and in the west Agios Ioannis.
If you want to recuperate on the beach, this time at Psarou, you'll have to reserve beach chairs in advance to be right at home amid summer's wildly see-and-be-seen crowd, many of whom arrive by yacht and are shuttled ashore in vintage mahogany skiffs. Keep an eye out just in case Georgio Armani or Roberto Cavali ask for a light, cause that's where they'll be. Psarou also features such vital amenities as a day spa, a hair salon and an outpost of chic boutiques just in case someone left their Prada in the plane's overhead compartment.
TOP NIGHTLIFE TIPS!
As the sun sets on Mykonos famous DJs flock to its numerous beach bars and renowned clubs. On top of all this Mykonos is a gay-friendly resort area which is packed with lots of gay clubs which are open for partying during the summer.
The serious partying for both tourists and natives of Mykonos starts around 11 at the Skandinavian Bar and Disco which happens to be one of the toppers among the World's Best Bars. It is right in the center of a highly traveled pedestrian intersection and it also happens to trendiest and most happening social gathering spots in the entire Cyclades. You are likely to meet and hook up with people whom you met at the beach. It is also the starting point for partying through the night!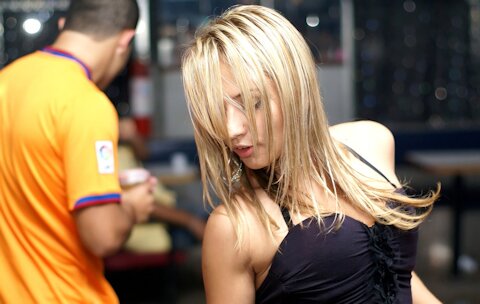 The Skandinavian Bar is made up of two tiny outdoor bars, an outdoor patio which is on a higher level and a disco which is bursting with DJ music, dancers and drinkers! The entire unit takes up a whole block. Large beers are available for just four Euros and cocktails are just six Euros making drinks extremely cheap at this bar which is why it's a haven of fun, fun and more fun!
After giving the party spirit a good start, head over to the Celebrities! Great music, energetic employees and unending fun is what it is all about. Seargo is also a good bar which is the right place when you want to take a break and get back onto your feet after lots of drinking and dancing.
Space Bar is the largest dance club on the party-island. Plenty of people who are looking to dance flock into this bar. With its ability to give space to thousand dancers at a time, it happens to be one of the largest bars in the Greek Isles. Non-stop techno fills the bar while the cover is ten Euros and so are the beers! However, people come here to dance, not to drink!
Mykonos also has a Hard Rock Cafe which is a little out of town. On the other hand there are pink shuttle buses which head out from the port every thirty minutes. Although it is a little on the higher side of the price scale, it does have a superb go-kart course and of course a poolside outdoor dance club.
Inside town, the bars close the doors around 4 a.m. On the other hand, as the weekends roll around, clubs stay open until 6 a.m. However, take care because at Mykonos is really difficult to keep track of days because of all the partying. If you still want to party, head down to the ferry dock to the bar which never closes! Unofficially it is called the Port Bar or The Yacht Club but in reality it is nameless.
Mykonos nights are all about parties!

Written by Giorgo Kontopulos
When in Mykonos make sure you pay visit to Super Paradise Mykonos Beach Bar Club for an unforgettable time