Prices in Magaluf: Costs of beer, food, clubbing
Prices in Magaluf: Costs of beer, food, clubbing
Prices Magaluf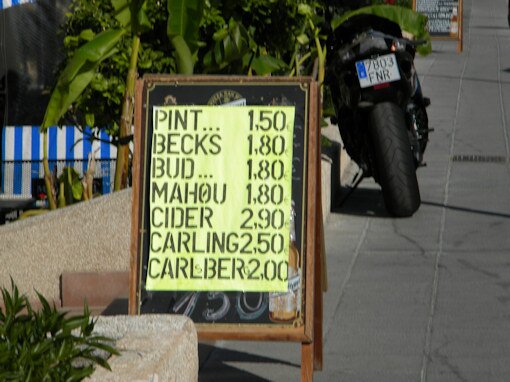 Are you heading for Magaluf in Mallorca this summer? Wonder how much money you should bring to party in fashionable style?
Read on my friend, I just came back from Majorca and had the pleasure of visiting the seaside bars and restaurants of Magaluf. I brought home some receipts that tell the tale of the price level in the boozy resort.
Prices in pubs and bars
The lowest priced pint of lager you will buy will cost you €1.50. That's very reasonable. Some stylish places may charge you €2.50 or €3 for the pint of beer, but if you are looking around a bit you will find plenty of places where the beer is
priced at less than €2.
There are plenty of offers around. 2 bottles of Budweiser for €4, Vodka & Red Bull for €4, cocktails €4 and so on.
Restaurants
There are plenty of fast food joints like Burger King, McDonald's and Kentucky Fried Chicken in Magaluf. At these places you can get a set menu for €5. If you want something better you can head for a Mexican place, or a steak restaurant where main dishes are served from €7-8.
Clubbing costs
This is what will set you back. It's expensive to get into the clubs and the prices at the bars inside are very high. Preload yourself before entering.
How much did I spend?
I spent approximately €100 each day during my holiday in Magaluf, but then I had plenty of partying and did go to the clubs for a few nights.