10 super attractive women share their thoughts on string bikinis
10 super attractive women share their thoughts on string bikinis
Asking glamour models if they like string bikinis is like asking an alcoholic if he likes alcohol..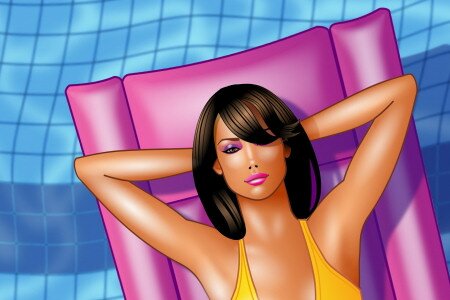 Sun & Sin asked, and 10 glamorous women shared their views on the tiny beach wear phenomenon.
What do you think about string bikinis?



Paola Corvea

Paola Corvea
is a model from Colombia. She's a sex advisor for FHM's hispanic version.
"
If the girl has the body for it... string bikini's are the way to go!!!"


photos of Paola.
Rabecca Lee
Rabecca Lee
is a 32 year old model from Dalton, Georgia. She is also playing one of the cheerleaders in the upcoming horror comedy "Chainsaw Cheerleaders."

"If you have the body for them, then wear it. If you feel comfortable in one then wear it. It is all about making yourself feel beautiful."


More photos of Rabecca Lee.
Sunshine Rodriguez
Sunshine Rodriguez is not only your average model. She has done bartending and also works as a MRI tech assistant. And yes, Sunshine is her real name.
"Love it! I have tons. "


photos of Sunshine.
Dawn May
She's an upcoming artist who recently finished a 3-track demo. Record deal next?
"If you got the bum, why not show it!"

More photos of Dawn.

Dana Lemor
Dana Lemor
is an Israeli model who grew up in Florida for most of her life, and recently moved to Miami Beach to further her modeling career.
"If you feel comfortable enough in your skin, you should go for it! I personally love them!"
Dana photos.
Emily Caprice
Emily Caprice looks better than a freshly baked carrot cake. The stunning blonde will finish her MBA in September 2008, and she also works as a model.
"I like Beach Bunny Swimwear alot and Teaseum Bikinis"
photos of Emily.
Mei-Ling
Mei-Ling
is a 22 year old woman from Tampa, Florida. She's a model with that sought-after "girl next door look."
"....sexy. i like them from suitsyouswimwear"
photos of Mei-Ling.
LesleyB
LesleyB is a young glamour model and show dancer living in Copenhagen in Denmark.
"its cool :) If the girl who wear's it, is nice"
More photos of LesleyB.

Claudia Romani
Claudia is an Italian woman with a model career in Denmark and England.
"I am not really into them.

I like Brazilian panties... I think they are sexier and classier."
photos of Claudia.
Lilje K
Lilje K
is from Copenhagen in Denmark. She works part time as a dancer and model.
"Its the bikini you have to wear of course.."
More photos of Lilje K.